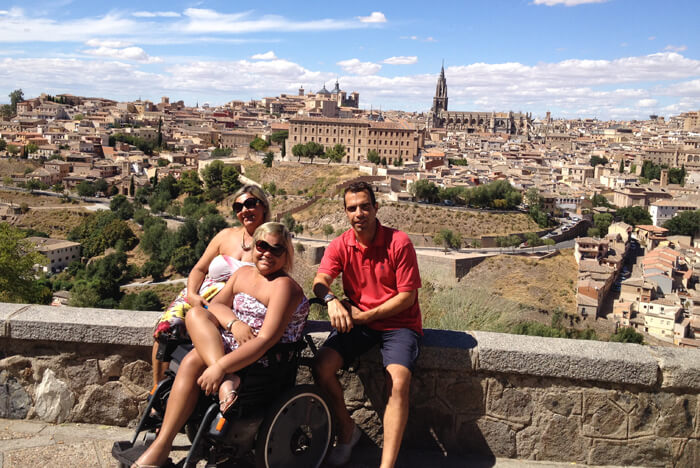 19 Dec · Accessible Madrid · No Comments
Accessible Toledo
Toledo is a World Heritage City and one of the main accessible tourist destinations in Spain. Accessible Madrid offers a memorable accessible visit to Toledo to people with physical disabilities or limited mobility using mobility scooters. If you wish to visit Toledo comfortably seated on your own wheelchair or one of our scooters, this is the best way to do it.
With Accessible Madrid you have no need to worry about anything on your visit. We take care of everything. We arrange the transfer of your group from your hotel in Madrid to Toledo, either using our adapted minivan or using the comfortable high-speed train departing from Madrid Puerta de Atocha station. Our guided tours on mobility scooter takes into account accessible routes, as well as restaurants, monuments and cultural spaces that are adapted and accessible for people with physical disabilities.
So that our customers can comfortably enjoy the city, we have designed accessible routes on mobility scooter that connects the main sights of Toledo. In our guided tour we visit places like the Plaza de Zocodover, The Alcazar, Cathedral of Toledo, The Greco museum, Transito Synagogue-Sephardic Museum, Church of Santo Tomé, The Monastery of San Juan de los Reyes, Synagogue of Santa María La Blanca and Paseo de Recaredo. After this lovely and memorable accessible visit, we will do the the panoramic tour of Toledo. We will stop at a view point in the hills for a few minutes, from where you will have an incredible panoramic view of the whole city.
In this picture appears family Chamaria, from India. They made this accessible tour to Toledo with us and had a wonderful day. We have great memories from this visit and we thank them very much for trusting Accessible Madrid planning their trip to Spain.
To get more information about the accessible visits for disable people on mobility scooter or wheelchair in Toledo, please contact us at Accessible Madrid (www.accessiblemadrid.com). We will be pleased to provide you with all details.